Skip to Main Content
Educational Resources
New England ADA Center

"The New England ADA Center is located in Boston at the Institute for Human Centered Design (IHCD). IHCD is an educational, international non-profit located. While the New England ADA Center provides access to information and guidance on disability rights laws and codes, IHCD provides education and consultation about best practices that go beyond legal requirements to design places, things, communication and policy that promote design that works for everyone across the spectrum of ability and age and enhances human experience. Call (1-617-695-1225) or visit us."
Disability Pride Month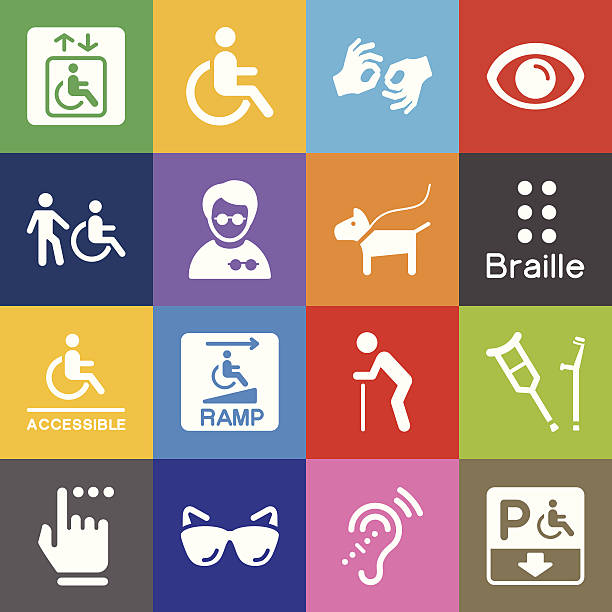 Disability Pride Month is celebrated annually in July. The celebration started in 1990 with the passing of the Americans with Disabilities Act (ADA) on July 26, 1990. ACA prohibits discrimination against persons with disabilities. ADA recognizes the following persons:
persons with physical disabilities,
persons with cognitive and intellectual disabilities,
invisible or undiagnosed disabilities,
mental illness,
sensory and perception disabilities.
The first Disabilities Pride Month celebration was held in 1990 in Boston, MA (National Health Council, 2021).
American Disabilities Act
"The ADA prohibits discrimination on the basis of disability in employment, State and local government, public accommodations, commercial facilities, transportation, and telecommunications. It also applies to the United States Congress.
To be protected by the ADA, one must have a disability or have a relationship or association with an individual with a disability. An individual with a disability is defined by the ADA as a person who has a physical or mental impairment that substantially limits one or more major life activities, a person who has a history or record of such an impairment, or a person who is perceived by others as having such an impairment. The ADA does not specifically name all of the impairments that are covered" (U.S. Dept. of Justice. ADA, 2020)
A Guide to Disability Rights Law

"This guide provides an overview of Federal civil rights laws that ensure equal opportunity for people with disabilities. To find out more about how these laws may apply to you, contact the agencies and organizations listed below."

Monthly Themes to Celebrate ADA

"Throughout the year and on the ADA Anniversary - July 26, help shape a universal future and celebrate the progress made through implementation of the Americans with Disabilities Act (ADA) in your workplaces, schools and communities - each month feature a theme for celebration."
The Disability Pendulum: the first decade of the Americans with Disabilities Act

by

Ruth Colker

Call Number: KF480 .C648 2005

ISBN: 0814716458

Publication Date: 2005-05-01

Available at NECC Haverhill.

"Signed into law in July 1990, the Americans with Disabilities Act (ADA) became effective two years later, and court decisions about the law began to multiply in the middle of the decade. In The Disability Pendulum, Ruth Colker presents the first legislative history of the enactment of the ADA in Congress and analyzes the first decade of judicial decisions under the act. She assesses the success and failure of the first ten years of litigation under the ADA, focusing on its three major titles: employment, public entities, and public accommodations. The Disability Pendulum argues that despite an initial atmosphere of bipartisan support with the expectation that the ADA would make a significant difference in the lives of individuals with disabilities, judicial decisions have not been consistent with Congress' intentions. The courts have operated like a pendulum, at times swinging to a pro-disabled plaintiff and then back again to a pro-defendant stance. Colker, whose work on the ADA has been cited by the Supreme Court, offers insightful and practical suggestions on where to amend the act to make it more effective in defending disability rights, and also explains judicial hostility toward enforcing the act."
NECC Library Catalog
Find books, e-books and more by searching the NECC library catalog
Popular culture
Disability and the Media

by

Charles A. Riley

Call Number: HV1553 .R49 2005

ISBN: 1584654732

Publication Date: 2005-04-13

Available at NECC Haverhill.

"In the past decade, the mass media discovered disability. Spurred by the box-office appeal of superstars such as the late Christopher Reeve, Michael J. Fox, Stephen Hawking, and others, and given momentum by the success of Oscar-winning movies, popular television shows, best-selling books, and profitable websites, major media corporations have reversed their earlier course of hiding disability, bringing it instead to center stage. Yet depictions of disability have remained largely unchanged since the 1920s. Focusing almost exclusively on the medical aspect of injury or illness, the disability profile in fact and fiction leads inevitably to an inspiring moment of "overcoming." According to Riley, this cliché plays well with a general audience, but such narratives, driven by prejudice and pity, highlight the importance of "fixing" the disability and rendering the "sufferer" as normal as possible. These stories are deeply offensive to persons with disabilities. Equally important, misguided coverage has adverse effects on crucial aspects of public policy, such as employment, social services, and health care. Powerful and influential, the media is complicit in this distortion of disability issues that has proven to be a factor in the economic and social repression of one in five Americans. Newspapers and magazines continue to consign disability stories to the "back of the book" health or human-interest sections, using offensive language that has long been proscribed by activists. Filmmakers compound the problem by featuring angry misfits or poignant heroes of melodramas that pair love and redemption. Publishers churn out self-help titles and memoirs that milk the disability theme for pathos. As Riley points out, all branches of the media are guilty of the same crude distillation of the story to serve their own, usually fiscal, ends. Riley's lively inside investigation illuminates the extent of the problem while pinpointing how writers, editors, directors, producers, filmmakers, advertisers and the executives who give their marching orders go wrong, or occasionally get it right. Through a close analysis of the technical means of representation, in conjunction with the commentary of leading voices in the disability community, Riley guides future coverage to a more fair and accurate way of putting the disability story on screen or paper. He argues that with the "discovery" by Madison Avenue that the disabled community is a major consumer niche, the economic rationale for more sophisticated coverage is at hand. It is time, says Riley, to cut through the accumulated stereotypes and find an adequate vocabulary that will finally represent the disability community in all its vibrant and fascinating diversity."
Advances in Sports Research

by

Esther S. Linton

Call Number: GV706.8

ISBN: 9781634837989

Publication Date: 2015-01-01

Available at NECC Online.

"Although research on athletes with disabilities has increased dramatically in the last 10 years, much of this research on been on athletes with physical disabilities. The authors of the first chapter of this book examine four areas: mental skills, motivation, effective sport psychology service and research from related sub-disciplines (e.g., exercise physiology) that is relevant because of indirect influences (e.g., skill and fitness development) on performance. The second chapter explores possible modifiable and theory-based factors associated with parasport progression. The third chapter charts a course for effective interpersonal relationships between team members and team harmony and performance in sports organizations. The author proposes a psychological perspective that is driven by affective behavior foundation, with major implications for the future. The authors of the fourth chapter discuss recent technologies for monitoring eye movements, which are being actively implemented in the process of rendering psychological support to athletes. In the final chapter, the authors discuss the psychological aspects of sprint runners, in particular two interrelated constructs - athletic engagement (AE) and Athletic Identity (AI)."

Diversity and inclusion in the recreation profession: Organizational perspectives

by

Ingrid E. Schneider, B. Dana Kivel, editors

Call Number: GV14.45

ISBN: 9781571677297

Publication Date: 2016

Available at NECC Online.

": Diversity and Inclusion in the Recreation Profession explores the construct of diversity within the context of managing and providing recreation and leisure-related services. Using multiple perspectives and comprehensive research, this book highlight the influence of markers of diversity on the issues and problems perceived and/or experienced by diverse groups; the nature and types of institutional barriers that organizational professionals often unwittingly create in their response, or lack thereof, to diverse populations; and transformational opportunities, both individual and organizational, that result through enhanced commitment to organizational diversity and inclusion. This edition features case studies of organizations successfully addressing diversity and inclusion; an expanded number of professional voices and their lived experiences with diversity as professionals in recreation, leisure, tourism, and sport organizations; and a new chapter on religion and spirituality as they relate to diversity, in addition to refreshed or completely new content chapters. Both editors have taught at the higher education level. Schneider's professional experience includes the service industry, the lodging sector, and as an outdoor recreation planner. Kivel cofounded and directed the Lavender Youth Recreation and Information Center (LYRIC). The contributors span a variety of professions from professor, public health nurse researcher and educator, museum director, social justice educator, to learning and development consultant at a library publisher's description."

Sports Rehabilitation and the Human Spirit

by

Anita Smith; Randall Williams; Michael Stephens (Epilogue by)

Call Number: PM101eb

ISBN: 1603063080

Publication Date: 2013-04-18

Available at NECC Online.

"Sports Rehabilitation and the Human Spirit tells the intersecting story of a man, Michael E. Stephens, and an organization, the Lakeshore Foundation of Birmingham, Alabama, whose campus is world-renowned for rehabilitation, sports, and fitness services for children and adults who have experienced physical disability as a result of injuries, birth conditions, illness, or in service to our nation. This includes those with paralysis, amputations, and limited mobility and function due to muscular dystrophy, multiple sclerosis, cerebral palsy, spina bifida, stroke, and other health conditions that could present significant physical challenges.

Stephens himself experienced a spinal injury and paralysis as a young man, later becoming a successful hospital executive and entrepreneur. The Foundation came out of this work, and today the Foundation operates a 45-acre campus, the showcase of which is a state-of-the-art 126,000-square-foot building that hosts many regional and national competitions for individual and team sports for those with physical disabilities.

Some Lakeshore participants engage in sports and recreation for fun, others are Lakeshore-based athletes engaged in competitive sports, and still others are Paralympic and Olympic athletes who come to Lakeshore Foundation for training; in 2003, Lakeshore was designated by the United States Olympic Committee (USOC) as an official U.S. Training Site for Paralympic and Olympic athletes.

Mike Stephens's story and Lakeshore's story are told here along with the inspiring stories of many individuals with disabilities who have rebuilt their lives through sports and fitness."
---
To cite this LibGuide use the following templates:
APA: Northern Essex Community College Library. (Date updated). Title of page. Title of LibGuide. URL
MLA: Northern Essex Community College Library. "Title of Page." Title of LibGuide, Date updated, URL.